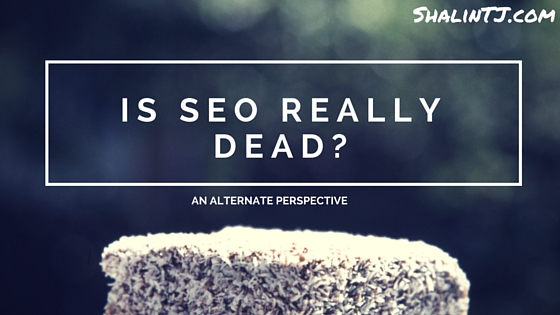 As a Search Marketer, one thing that I get to hear quite often is, "SEO is dead.." And almost all the times, I have to explain, it's not SEO that is dead but the traditional SEO strategies that're dead. Over the past couple of years, a lot has changed in the SEO domain. But let me not talk about it in this note. I want to talk about something very fundamental to SEO in this note.
The other day Aniket, our Content Marketing Head and I were working chalking out a digital marketing plan for a client. And amid our discussion, he mentions this with an awe, "Isn't it strange? They say the days of SEO are gone. But I think SEO is everywhere. Want to write a blog post that can get you traffic and sales, you look for datapoints on what people are searching for. Want to post an ad on Quikr, you look for what people are searching for on Quikr, what they prefer to buy on it. Want to list a product on Flipkart, you look for what people buy on it."  This really got me thinking,
What really is SEO?
Isn't it optimising your content for search engines so that users of it land on your web pages vide them? That's how it started. That's what it was meant to do. I understand it did get lost in the crazy BlackHat SEO and unethical SEO practices for some time. But times have changed. No matter what discovery engine you are referring to – it can be Google Search, Flipkart or Quikr's own search engines. SEO is there – you do think about the people who use these content and product discovery engines. You do think about their habits, characteristics, behaviours". Isn't that what SEO is all about?
SEO IS NOT DEAD. In fact, it's stronger and damn important than it ever was.